Our Specials
---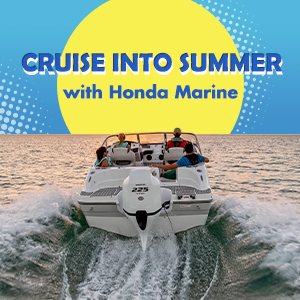 Get up to $700 Instant Savings with the purchase, Plus an Additional 1-Year Manufacturer's Warranty on Select Honda Outboards.
Now throuh July 5th!
*At participating dealers only. Qualifying retail customers may receive instant savings off the selling price of a Honda powered boat package or Honda Marine engine(s) sold for repower. This promotion is limited to new Honda Marine 40 HP through 250 HP outboard engines, 2015 and newer models, sold and delivered between January 5, 2021 and March 31, 2021 and registered by the Dealer in accordance with American Honda Motor Co., Inc.'s sales registration requirements. Only Honda Marine outboard engines sold for personal use qualify for this promotion. Fleet, commercial & government sales are ineligible. Engines sold under special pricing / promotions including (but not limited to) demo and tournament fisherman engines are also excluded. Honda Marine reserves the right to modify, amend, cancel or revoke, in whole or in part, this promotion at any time without prior notice.